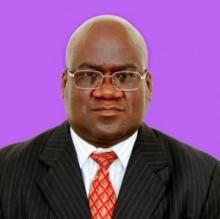 Department of Electrical and Electronic Engineering
Biography
Academic Qualifications:
Doctor of Engineering Degree (March 22, 2013) Akita University, Akita City, Akita Prefecture, JAPAN. Doctor of Engineering Degree in Electrical, Electronics and Computer Systems Engineering Doctorate Thesis: A Study on New Congestion Avoidance Methods in IP Routing Protocol.
Master of Engineering Degree (March 23, 2000) University of Electro-Communications, Tokyo, JAPAN Master of Engineering Degree in Information Network Science Engineering.
Bachelor of Engineering Degree (August 19, 1995) University of Zambia Bachelor Degree in Electronics and Telecommunications Engineering
Membership of Professional Institutions
Member of Institute of Electrical and Electronics Engineers, MIEEE.
Member of Engineering Institution of Zambia, MEIZ.
Contact Details
Mobile: +260-971-003326+260-971-003326. Email: simon.tembo@unza.zm