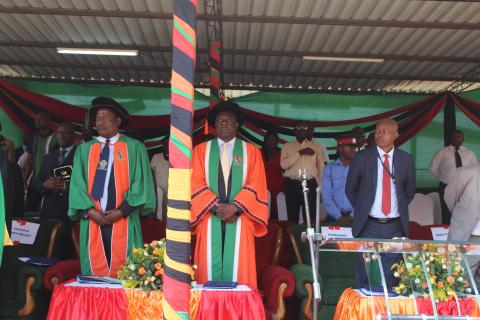 Ministry of Education Permanent Secretary (PS) Technical Services, Mr Joel Kamoko, is delighted at the University of Zambia (UNZA)'s role in instilling quality assurance training in colleges of education through collaborative affiliations. Mr Kamoko also acknowledged effective contributions made by Malcom Moffat and DAPP Mkushi Colleges of Education in producing quality teachers who would provide excellent and efficient teaching services to learners in schools around the country.
The Ministry of Education PS acknowledged the efforts UNZA was investing in enriching curricula of college education by affiliating several public and private tertiary institutions such as Malcom Moffat and DAPP Mkushi Colleges of Education. He urged the University Management to continue sharing the knowledge transfer to ensure skilled teachers were produced.
Mr Kamoko, who is the UNZA Alumnus, told graduates that the rural child would be looking up to them as role model and, thus, should willingly accept to work in remote areas.
"Let the Christian values and survival skills you have acquired help to train pupils well and you are expected to exhibit good morals and conduct," he advised.
Further, the PS informed graduates that the advantage of graduating from the UNZA-affiliated colleges of education was that they would spent less than four (4) years of study at the University because their diplomas would attract exemptions.
Speaking at the same function, UNZA Acting Vice-Chancellor, Prof Anne Sikwibele, who was represented by UNZA Acting Deputy Vice-Chancellor, Prof Boniface Namangala, said that the University was very proud to be associated with affiliate colleges that were innovate, productive and ready to prepare learners in school that would reflect the desired 21st Century learning skills of creativity, critical thinking, communication and collaboration.
"I am very much convinced that the men and women graduating today are leaving the two colleges with much needed skills, knowledge, attitudes, values and teaching strategies that will produce learners that go beyond textbook knowledge to being able to demonstrate usable knowledge in the diversity of circumstances the learners might find themselves in," Prof Sikwibele said.
The UNZA Acting Vice-Chancellor reminded graduates that the teacher's role in society was a powerful and privileged one in that he or she would make a difference to the lives of every single learner because they were agents of change in various communities and societies.
Meanwhile, hosts of the combined graduation ceremony, Malcom Moffat College of Education Acting Principal, Mr Bernard Nkwale, said that this combined graduation ceremony was historical in that it had happened after two years due to COVID-19 pandemic and involved two colleges.
Mr Nkwale said that the ceremony would produce 860 new teachers with 13 of them graduating with distinctions. He prayed for all graduates to be successful teachers and good citizens of the country.  
The combined graduation ceremony of UNZA in association with Malcom Moffat and DAPP Mkushi Colleges of Education attracted traditional leaders who were represented by Chief Chibale and Chief Kabamba, Council of Churches of Zambia, and parents/guardians.