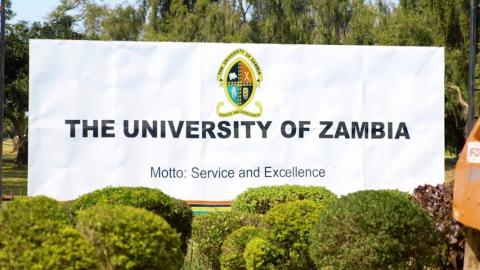 The Higher Education Authority (HEA) has classified the University of Zambia (UNZA) in the highest tier of the Zambia Qualifications Framework (ZQF) 10 following findings of the audit of each higher education institution in Zambia. This entails that UNZA has the capacity to offer a wide range of university programmes from diploma, bachelors, masters to PhD programmes.
And UNZA Vice-Chancellor, Prof Luke Evuta Mumba, says that the classification of higher education institutions into four tiers will assist the public to make informed decisions when it comes to choosing a university to study from.
"As a university, we are delighted to be classified in the highest tier of ZQF 10 because this helps to build public confidence in the University of Zambia's capacity and ability to provide quality programmes from diploma to PhD programmes to support the national development agenda. The University will continue to work hard through innovations in teaching and learning, research and community outreach activities in order to provide degree programmes of international standards," Prof Mumba said.
Meanwhile, HEA Director General, Prof Stephen Simukanga, says the classification of higher education institutions into four (4) classes (tiers) based on their capabilities in research and innovation, teaching and learning is provided for in Statutory Instrument No. 25 of 2016.
"The goal of the classification system is to provide a basis for guiding learners and the public on the level of education that can be offered by a higher education institution based on its human resources, physical resources and research capacity," states Prof Simukanga.
He further said that this classification system was also a quality assurance tool that would instil confidence in the public on the ability of a university to offer any type of education falling within the classification in which the institution has been classified.
The HEA has classified universities in Zambia into four (4) tiers according to the Zambia Qualifications Framework, namely, from the lowest to the highest: ZQF 7, ZQF 8, ZQF 9 and ZQF.  The classification is intended to align higher education institutions (universities) to their capacities to offer learning programmes, for instance, ZQF 10 where UNZA falls, allows universities in that category to offer programmes from diploma to Doctor of Philosophy (PhD), while those in ZQF7 can only offer bachelor's degree programmes.
Issued by:
Damaseke Chibale
Acting Head – Communication & Marketing