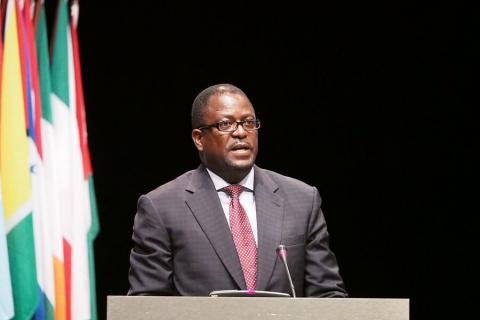 The University of Zambia (UNZA) School of Law would like to congratulate Honourable Justice Dr. Mumba Malila S.C. on his appointment as Chief Justice of the Republic of Zambia. Dr. Malila has a distinguished academic background. He obtained his Bachelor of Laws (LL.B) from the UNZA School of Law, his Master's degree in Law (LLM) from the University of Cambridge, and a second LLM from the University of Pretoria where he also obtained his Doctor of Philosophy (PhD) in Law. He was admitted to the Zambian bar in 1988. Following his admission to the bar, he practiced with Christopher, Russell Cook and Company from 1989 to 1993. He served as the Manager for Legal Services for Meridian Financial Services Limited from 1993 to 1995 and as Legal Counsel of the Emerging Market Investments Group of Companies from 1995 to 1996 before founding Mumba Malila and Partners.
In his African regional human rights work, the Honourable Chief Justice was elected to serve on the human rights body of the African Union, the Commission on Human and Peoples' Rights, for six years, the last two of which he was elected the Commission's Vice Chairperson. While serving as a Commissioner on this body, he held the positions of Chairperson of the Working Group on Extractive Industries and Human Rights Violations in Africa, Special Rapporteur on Prisons and Conditions of Detention in Africa, member of the Working Groups on the Death Penalty in Africa and on Indigenous Peoples and Populations in Africa.  
Honourable Chief Justice Dr. Malila S.C. is not only an esteemed alumnus of the School of Law, but he also served the School and University in several capacities from 1989 to 2011. Notably, he was a lecturer and Assistant Dean in the School and during this time, he made immense contribution to the School: publishing the leading commercial law textbook in Zambia, Commercial Law in Zambia, a book that has been cited on several occasions by the superior courts of Zambia; serving as a key member of the Zambia Law Journal for several years and co-ordinating the Directed Research programme.
Several of Dr Malila's students at the UNZA Law School are currently enjoying successful careers as legal practitioners, with some having been appointed to serve as judges of the superior courts of Zambia.
In addition to his service to UNZA and his distinguished professional career, Honourable Chief Justice Dr. Malila S.C., twice served as Attorney-General for the Republic of Zambia, where he was an ex-officio Member of the Cabinet and the Executive branch of Government as Chief Legal Advisor. Upon his appointment to the position of Attorney General, he was conferred with the rank and dignity of State Counsel (S.C.).
In July 2014, Honourable Chief Justice Dr. Malila S.C. was appointed as a Judge of the Supreme Court of Zambia. During his time on the Bench thus far, he has contributed significantly to Zambia's jurisprudence in several areas of law, ranging from human rights and commercial law to employment law and civil procedure for example. Most notably, he was on the Supreme Court panels that delivered these (credible) judgments: Madison General Insurance Company Ltd v. Avril Cornhill and Michael Kak, Rabson Sikombe v. Access Bank Zambia Limited, Nyimba Investments Limited v. Nico Insurance Zambia, Madison General Insurance Company Ltd v. Peter Kanyinji, George Peter Mwanza and Melvin Beene v. The Attorney General, and Tiger Chicks (t/a Progressive Poultry Limited) v. Tembo Chrisford and Others to mention but a few. These judgments reflect Honourable Chief Justice Dr. Malila S.C.'s vast expertise and suitability to serve in his role as Chief Justice.
In addition to developing Zambia's jurisprudence extensively in his seven years on the Bench, as well as the jurisprudence of the African Commission on Human and Peoples' Rights, Honourable Chief Justice Dr. Malila S.C has published several articles in the Zambian Law Journal and in international peer reviewed journals, and three books: The Contours of a Developing Jurisprudence of the Zambian Supreme Court, The Law of Business Associations in Zambia and Company Law in Zambia.
Evidently, the Chief Justice's legal career has been spent in almost all sectors that a lawyer in Zambia can work in - practicing legal practitioner, academia at the University of Zambia, author, Attorney-General and Justice of the Supreme Court. This cumulative experience, coupled with his charismatic personality and strong leadership qualities, make him a more than capable candidate to lead the Judiciary in the years to come.
HEARTY CONGRATULATIONS Honourable Chief Justice Dr. Malila S.C., an exemplary alumnus of the University of Zambia School of Law, on your appointment. We wish you the best as you take on your new role.
Professor Chuma Himonga
DEAN, SCHOOL OF LAW