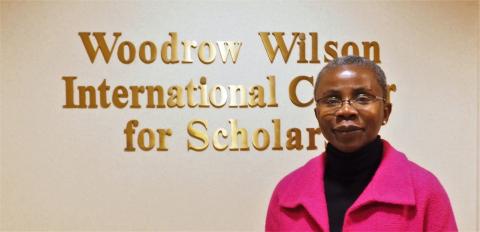 The University of Zambia (UNZA) Vice-Chancellor, Prof Luke Evuta Mumba, has congratulated Dr Monde Muyangwa on her new appointment by US President, Joe Biden, to lead the United States Agency for International Development (USAID) Africa. Prior to her appointment, Dr Muyangwa was serving as Africa Programme Director at the Woodrow Wilson Centre, Washington, DC where she led programmes aimed at analysing and offering effective, practical solutions to Africa's most pressing current and future issues. She coordinated options for strengthened mutually beneficial US – Africa ties, as well as change the dominant narrative about Africa by enhancing knowledge and understanding about the continent in the US.
 "As our alumna of the University, I am delighted at Dr Muyangwa's career progression since she graduated from the University of Zambia with a Bachelor of Arts in Public Administration and Economics at the 1986 Graduation Ceremony. We fondly remember her as gallant captain of the University Women's Basketball team (UNZA Honeys) and as a dedicated basketballer herself," Prof Mumba said.
Dr Muyangwa holds a PhD in International Relations and a Bachelor of Arts Degree in Politics, Philosophy, and Economics from Oxford University, UK. She was a Rhodes Scholar, a Wingate Scholar, and the University of Zambia valedictory speaker for her graduating class in 1986.
Her contributions in academia include her tenure as an Academic Dean at the Africa Centre for Strategic Studies (ACSS) at the National Defence University from 2002 to 2013 and as a widely cited authority on governance, security, and development issues. From 2000 to 2003, she also worked as a Professor of Civil-Military Relations at ACSS.
Dr Muyangwa has an exciting professional career for many years in which she served as Director of Research and Vice President for Research and Policy at the National Summit on Africa (1997 to 2000), Director of International Education Programmes at New Mexico Highlands University in Las Vegas, New Mexico (1996 to 1997).
The new USAID leader also served on the Ibrahim Index of African Governance which was a project of the Mo Ibrahim Foundation. She also worked as a development and gender consultant and served on several development projects in southern Africa in various areas like education, housing, health, and nutrition.
Currently, Dr Muyangwa serves on the Board of Trustees at Freedom House in Washington, DC and the Board of Directors at the Washington-based Elizabeth Glaser Pediatric AIDS Foundation.