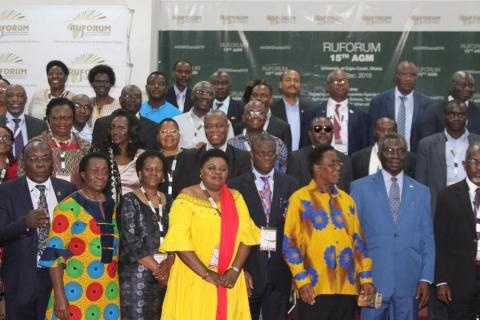 The University of Zambia Vice Chancellor, Professor Luke Mumba has been appointed to Chair the first Audit Committee set up under the Regional Universities Forum for Capacity Building in Agriculture (RUFORUM) Board on 5th December 2019. This was at the recently held 15th Annual General Meeting of RUFORUM held in Ghana at the University of Cape Coast.
The RUFORUM Board approved the appointment of the following to the Audit Committee, Professor Luke Mumba as Chairman, Dr Eusebius Mukhwana, Director General – Kenya Quality Assurance Authority as member, Dr Stephen Muchiri, President Farmers Federation as member and Professor Adipala Ekwamu as Secretary to the Audit Committee. The members of this Committee would serve for an initial term of three years with prospects to serve for a further and final term of three years.
RUFORUM is an Initiative by African Universities that was founded in 2004 initially by ten Universities in five countries in Eastern and Southern Africa. RUFORUM has since expanded and is now operating in 38 of the 54 African member states.  RUFORUM has a membership of 122 member Universities across Africa. The initial focus was to bring the Universities together so that they could align themselves to the continental agenda. At that time, the main commitment from African member states was about reducing poverty and hunger. The focus was to build capacity to support advancement in the agricultural sector in Africa. Since 2014 following a request from the African Union Commission, RUFORUM has broadened its mandate to include Science, Technology and Innovation.