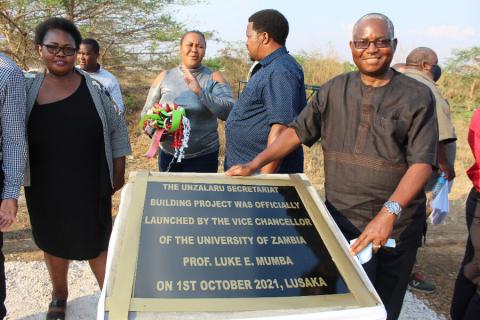 The University of Zambia (UNZA) Vice-Chancellor, Prof. Luke Mumba has commended the University of Zambia Lecturers and Researchers Union (UNZALARU) for commencing construction of the new multipurpose building that will not only provide a home for UNZALARU and its members but will also change the landscape of the University.
Prof Mumba was speaking at the official launch of construction works of Phase One of the multipurpose building of UNZALARU at the Great East Road Campus on Friday, 1st October 2021. "On behalf of the University of Zambia Council and Management, I am very proud of these efforts by UNZALARU. It is exceedingly gratifying to see that a workers' union, which by default is usually at loggerheads with management over conditions of service, is here today joining hands with Management in infrastructure development in the University," he said.
The Vice-Chancellor revealed that the construction of the multipurpose building was going to be segmented into three (3) phases namely; Phase One - construction of the ground floor which will house union offices, a boardroom, kitchen, records room and ablution. Phase Two – will have seminar rooms for academic purposes, while Phase Three - will involve the construction of a 600-seater conference facility, restaurant, bar and gymnasium.
"As Management, we are very pleased that you have put the land that we allocated to you to good use in record time. We are confident that you will build a state-of-the-art office block which will add beauty to this University and, in future, provide space for your members and visitors to patronise these premises and relax," he said.
Prof Mumba also urged the union to keep exploring other opportunities where they could collaborate with Management.
And UNZALARU President, Dr Andrew Phiri, disclosed that funds, to the tune of K2.5 million, to construct Phase One of the building were internally raised by members. He thanked UNZA Council and Management for granting them permission to use part of the University land to develop a state-of-the art multipurpose building that would contribute to the infrastructure development crusade at the institution of higher learning.
He expressed gratitude for Management's continued support which was symbolized by the presence of the Vice-Chancellor, Prof Mumba, who officially launched construction works of the new multipurpose building of UNZALARU. He disclosed that the construction of Phase One of the building was expected to be completed within six months.