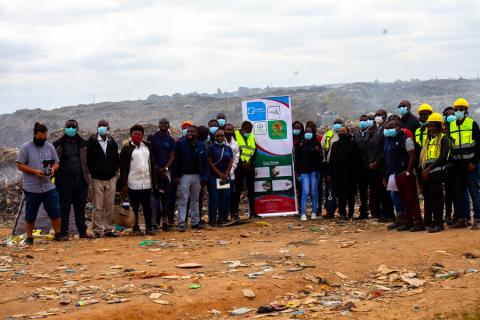 The University of Zambia (UNZA) joined the rest of the world in commemorating World Environmental Day at which the School of Engineering through the We Robotics' Zambia Flying Labs also launched a Project dubbed Stockpile Auditing of Chunga Dump Site Using Drones.
In a speech read on his behalf by the Dean of School of Engineering, Dr Michael Mulenga, UNZA Vice-Chancellor, Prof. Luke E Mumba, commended the Zambia Flying Labs for championing several projects among others the Science, Technology, Engineering and Mathematics (STEM) education programme for the hearing impaired at Munali Secondary School as well as the accelerator and mentor programs such as the on-going drone education training being coordinated by Dr Erastus Mwanauomo and his team. Prof Mumba said the Zambia Flying Labs project has shown ambition in environmental management and was seeking support from stakeholders so as to improve on the capacity building training as well as to procure drone simulators among other educational training aids.
Prof Mumba said UNZA has great potential of becoming the anchor Zambia needs in research and development in drone technology. "We already have the capacity to develop pilot and research projects to further the use of drones and data and to address social challenges of our country, ranging from disaster management, sustainable agriculture, rural and urban development and nature conservation.
"Our vision as the University of Zambia is to be the pioneers of the evolution of drone technology working in partnership with the Zambia Flying Labs. But to achieve this we need to collaborate with the Government and all stakeholders who will benefit from the use of drones in environmental management," he said.
Prof Mumba said that with the strong emergence of drones in the country, UNZA intends to create a foothold in the building of local skills and to increase the social as well as the economic impact of drones.
And speaking on behalf of the Dean School of Engineering Dr Micheal Mulenga, Head of Department Civil and Environmental Engineering in School of Engineering, Dr Balimu Mwiya said that the goal of the  Zambia Flying Labs was to accelerate the positive impact of local aid, health, development and environmental projects.
Dr Mulenga said the objectives of the project include: carrying out a topographic survey at Chunga dumpsite for the purpose of monitoring; demonstrating the viability of using drones for waste management; digitising aerial drone outputs in 3D or 2D maps; and raising awareness of the environmental impact of the Chunga dumpsite.
"The stakeholders that have been invited to participate in this project include Ministry of Local Government, Ministry of Higher Education, Japan International Cooperation Agency (JICA) Zambia, Zambia Environmental Management Agency (ZEMA), Lusaka City Council, Susana and the Disaster Management and Mitigation Unit (DMMU)," he said.
World Environmental Day was celebrated under the theme: "Drones for Social Good and the Development of Zambia: Turning Data into Action."