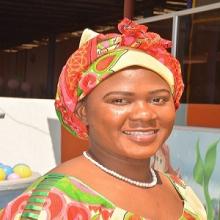 Department of Public Law
Biography
Academic Qualifications:
LLM Lund,
LLB, UNZA, AHCZ
Certificate in Strategic Planning
Annie Chanda joined the University as a lecturer in 2004. Annie is an Advocate of High Court of Zambia having been admitted to the Zambian Bar in 1998. Annie has taught a wide range of courses in the School including Family Law, Human Rights, Constitutional Law and Administrative Law. Annie has held various positions in the University and School including Acting Head of the Public Law Department, Honorary Legal Counsel, Board Secretary for Zamnet and Zamren and acted as Dean of the School on various occasions.
In the Public life Annie held the position of Executive Director National Legal Aid Clinic for Women from 2004 to 2010. 
Annie is currently a Special Research Fellow in the School. Her area of research is on Human Rights and Gender.
 
Research Interests
Family Law,
Human rights,
Gender,
intellectual property,
constitutional and administrative law
Publications
Publications: 
Book
Alfred W. Chanda's Human Rights Law in Zambia: Cases and Materials, 2017
Articles
Promoting the Effectiveness of Democracy Institutions in Southern Africa: The Commission for Investigations and the Permanent Human Rights Commission in Zambia, 2009 
Unpublished works
LLB Obligatory Essay: The Effectiveness of the Law on Abortion in Zambia
LLM Degree thesis: The Trips Agreement and Its Implications for Public Health in Developing Countries: A Critique Lund University
Culture vs Human Rights: A Study of the Traditional Cultural Practices of the Ila of Namwala District and the Lenje of Chibomba district of Zambia
Works in Progress:
Administrative Law in Zambia: Cases and Materials
Alfred W. Chanda's Constitutional Law in Zambia: Cases and Materials
Legislative Response to Gender Based Violence in Zambia
Contact Details
annie.chanda@unza.zm