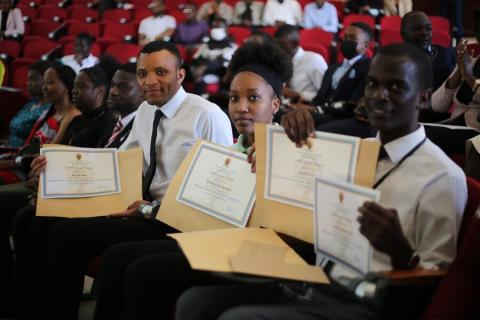 Health Ministry Permanent Secretary for Donor Coordination, George Sinyangwe has congratulated the University of Zambia (UNZA) School of Medicine for its role in fostering the country's economic development agenda through training of health care professionals.
Speaking through his representative Ministry of Health director for Clinical Care and Diagnostic Services Kennedy Lishimpi at a Saturday. 1st July 2023 Prize Giving Ceremony in Lusaka, Dr Sinyangwe says the rapid increase in population and emergence of infectious diseases calls for more dedicated health personnel to manage the situation.
Dr Sinyangwe says the government is committed to expanding healthcare facilities and training institutions with private sector participation.
The Permanent Secretary adds that government recognizes the efforts of the University to produce world-class education in health training programs and has pledged continued support.
The ceremony held at UNZA Ridgeway Campus was convened to recognize and celebrate the academic successes of best-performing students at different levels, which saw many outstanding students walk away with various prizes including cash money.
Story Courtesy MoH