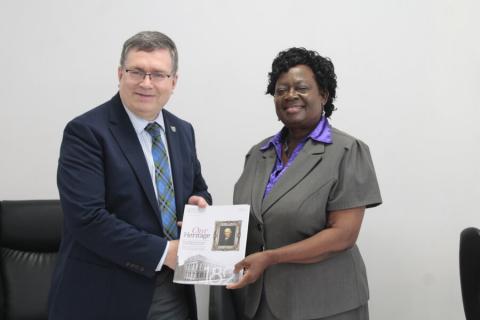 The University of Zambia (UNZA) was privileged to host a team from Heriot-Watt University led by its Principal, Professor Richard Williams, and the Deputy Principal for Enterprise and Business, Professor Gillian Murray. The two universities held a collaborative meeting with the view of developing bilateral educational cooperation that could flourish on various fronts and arenas.
And the University of Zambia Acting Vice-Chancellor, Prof. Anne Sikwibele, thanked Heriot-Watt University for picking on the University of Zambia among many other universities around the world.
Prof. Sikwibele said that in this age of globalisation and interdependence, collaborative partnerships with other academic institutions of excellence around the world were not an option but a requirement.
She said the University of Zambia was ready to work with Heriot-Watt University on many initiatives that will add academic value to both Zambia and Scotland.
Meanwhile, Heriot-Watt University's Principal, Professor Richard Williams, said the university has been in existence since 1821 and that its strengths in research and education have made it have a positive impact on the global stage. "We continue to push new frontiers in the fields of science, technology, engineering, business, and design," he said.
Prof. Williams said he was looking forward to partnering with UNZA in collaborative research, staff and student exchange programmes and many other areas that will create an impact and a positive mindset in the students.
According to the QS World University Rankings 2022, Heriot-Watt University is rated 270th in the world, 33rd in UK and 5th in Scotland.