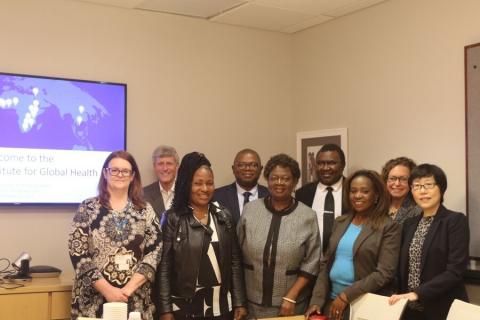 The Acting Vice-Chancellor Professor Anne Sikwibele held partnership meetings with the leadership of Vanderbilt University on Thursday 10th November 2022. Vanderbilt University was established in 1873 and today stands at number 14th in the overall rankings in the United States with 6 Nobel laureates to its credit.
The University of Zambia has had a long-standing collaboration with Vanderbilt University dating back to 1998 and this has been fostered through the Vanderbilt University Medical Centre which has 7 hospitals, the Institute of Medicine and Public Health and the Vanderbilt Institute for Global Health (VIGH). The focus of the collaboration between UNZA and Vanderbilt has been with the Medical Schools at Ridgeway Campus in research, education and training and health systems strengthening. 
Among the numerous active and completed educational collaborations in research development with Vanderbilt University are the following:
The National Institute for Health (NIH) funded UNZA – Vanderbilt Training partnership for HIV – Nutrition – Metabolic Research with Prof Wilbroad Mutale and Dr Celestine Nzala at the centre as co-Principal Investigators. This programme provides support for UNZA PhD students, equipping them with research skills in non - communicable disease (NCD) complications and comorbities of HIV;

The NIH-funded Vanderbilt – Zambia Cancer Research Training Programme which is training PhD and postdoctoral trainees and UNZA/UTH/CDH/MoH faculty in cancer epidemiology.

The Vanderbilt Institute for Research Development and Ethics (VIRDE) – a one-month course in grant writing and research ethics taught at VIGH;

Building research communities in Zambia using a dual mentorship model of Zambian and USA-based mentors;

Support to the PhD curriculum planning and development at the University of Zambia - Ridgeway Campus;

Through the SHEPIZ Project at UNZA, development of a specific curriculum on mentorship and supervision. Further, a leadership and management programme for academic staff has been co-developed.
At the meeting, the University of Zambia in partnership with Vanderbilt University also discussed two new grants secured for Cancer Research on the one hand and Pediatric Anesthesia Training in Africa on the other.
The cancer research project earmarked to receive US$1.5 million every year for five years will seek to develop a cadre of researchers and educators, train scientists and future leaders in cancer research and document the long-term impact of these interventions on the cancer disease burden.
With regards to the Pediatric Anesthesia Training in Africa (PATA) project whose strategic funders are the ELMA Foundation and SmileTrain, the meeting noted that the need for pediatric surgery in Africa was growing and that not only do children living in Africa lack access to surgery and anaesthesia, but they also experienced worse outcomes when receiving care when compared to children in high-income countries. Thus in this project, the University of Zambia would be the hub in Africa to cover Uganda - through the Association of Anesthesiologists of Uganda and Nigeria – through the National Hospital Abuja. The project would seek to ease the shortage of skilled anaesthesia providers and in the process achieve set goals to reduce perioperative mortality among African children.
The meeting with Vanderbilt University also focused on resource mobilization. To its credit, Vanderbilt has built over the years an endowment fund realized from various fundraising initiatives which stand in excess of US$4 billion. From the collaborative discussions that ensued, UNZA will benefit from various benchmarking activities aimed at the development of a UNZA Alumni information and Relationship Management system and sharing of strategies for building a fundraising model.