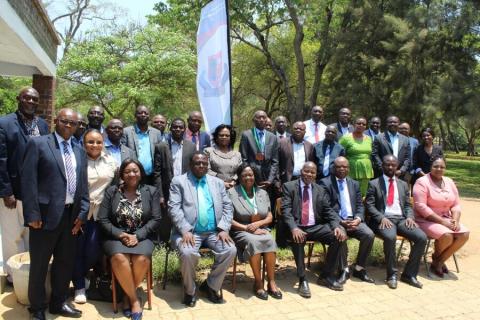 The University of Zambia (UNZA) Acting Vice-Chancellor, Prof Anne Sikwibele, has applauded the Zambia Association of Public Universities and Colleges (ZAPUC) for creating a strategic forum for consultation, exchange of information, experiences and  cooperation among universities and colleges in Zambia in order to promote the exchange of best practices in delivering tertiary
education.

Officiating at the ZAPUC training workshop for university and college chief executive officers held at Mulungushi University in Kabwe, on Thursday, 13th October 2022, Prof Sikwibele said that the Association represented a collective voice of higher education and supported networking in teaching, learning, research and innovation, information exchange, and community service.

"As chief executive officers of universities and colleges, you will be excited to note that all topics of this Workshops are very critical to the running of your institutions of learning such as strategic management, linkages to and leverage on state support, relations with trade unions and quality assurance in higher education," she said.

Further, the UNZA Vice-Chancellor reminded participants that there was no single university or college, no matter how large or well endowed, could address future challenges by itself and advised that collaborative partnerships among member institutions were not an option but a strategic necessity in the era of globalisation.

"Forum discussions through workshops like this one will lead to the harnessing of benefits associated with each institution's competitive advantage and growth strategies in order to make great strides in teaching and learning, research, innovation and community service for the benefit of our communities," Prof Sikwibele said.

The second ZAPUC workshop themed "Effective Management of the Tertiary Education", has attracted 24 Vice-Chancellors and Principals from over 18 institutions of learning across the country.