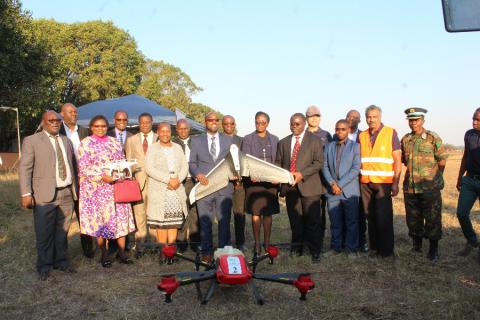 Minister of Transport and Communication and now Minister of Higher Education Engineer Dr Brian Mushimba has commended the University of Zambia for setting up the first-ever Flying Lab in Zambia and has called on UNZA through the School of Engineering to establish a remote pilot training centre for drones to train Zambians who are interested in becoming licensed remote pilots.
Speaking when he officiated during the launch of the Flying Lab at UNZA, Dr Mushimba said the story technology and innovation have continued to be that of revolution and evolution, hence, the coming in of drones was fascinating as drones had a peculiar story to tell. He added that transport had a critical role in supporting economic growth, therefore, the coming in of remotely piloted aircrafts such as drones was a perfect fit in supplementing transport challenges, especially when trying to reach remote areas. "For instance, a company called Zipline is already using small robot planes to drop medical supplies to areas of Rwanda where there are no roads," he said. Dr Mushimba said Zambia, on the other hand, has seen the emergence of using drones for agricultural crop spraying by companies such as Sunagri.
He further noted that the launch of the Flying Lab was coming in handy because Zambia was on the horizon of a paradigm shift in the use of remotely piloted aircraft especially for land surveying and mapping, urban planning and land management, construction and earthworks, infrastructure management and mining.
"A good example, in the use of the drones has been exhibited by Kalumbila Mines in North-Western province. There is also interest from Zambia Electricity Supply Corporation (ZESCO) in the use of drones. In agriculture, drones are a natural fit where farmers can benefit from real-time information," he said. The Minister added that drones could also help track almost everything including water use, crop health, heat signatures, soil analysis, natural resource conservation, policing of poaching, disaster management as well as crime prevention.
He said to support this forwarding looking initiative instituted by UNZA the Ministry of Transport and Communication through the Zambia Civil Aviation Authority will provide the necessary regulatory services to ensure that legal compliance and safety during the operations.
And Acting Vice-Chancellor Professor Enala Tembo Mwase said with the strong emergence of drones in the country, UNZA intend to create a base in the increase of social and economic impact of drones by facilitating the growth a strong and diverse local drone ecosystem which will provide opportunities for job creation; and building of entrepreneurship skills for graduates.
Prof Mwase said UNZA had great potential of becoming the anchor the country needs in research and development in drone technology. "We already have the capacity to develop pilot and research projects to further the use of drones and data to address social challenges of our country, ranging from disaster management to sustainable agriculture, rural and urban development to nature conservation, however, without the support from our government all our brilliant ideas and innovations we will have a much lesser impact in our country's socio-economic development," she said. Prof Mwase added that in order for such innovative ideas to see the light of the day there was a need for government to award contracts for research and consultancy projects related to drone technology and innovation to UNZA. "We plan on establishing a training centre and drone eco-laboratory at the School of Engineering. Financial support from the government and other stakeholders would help us achieve our dream of having a Centre of Excellence in drone technology in Zambia. as a research institution, our involvement in advisory committees for use and regulation of drones not excluding taxes and insurance policies among others is key for us to make a difference in our country's drone ecosystem," she said.
And Dean School of Engineering Dr Michael Mulenga said the Zambia Flying Lab was a partnership of three institutions namely the University of Zambia (School of Engineering), iDrone Services, and iKAN Konsult and that the aim for establishing this partnership was to inform, educate and develop a sustainable ecosystem for drones in Zambia; and that the goal was to accelerate the positive impact of local aid, health, development and environmental projects by sustainably localising appropriate robotics solutions through training of local partners on the use of robotic technology.
Dr Mulenga hoped that the launch of the Flying Lab would help to champion research, development and consultancy related to drones for social good in Zambia and beyond. He also added that the school intend to facilitate improvements in the learning experience for students at UNZA and other learning institutions by including drones and robotics as part of Science Technology Engineering and Mathematics (STEM) Education.