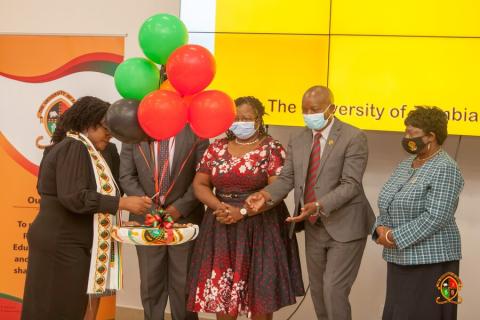 Minister of Education Douglas Syakalima has applauded the University of Zambia (UNZA) Management for setting a defined path which will see the institution achieve its strategic direction in the next five years. In a speech read on his behalf by the Ministry of Education Permanent Secretary, Mr Joel Kamoko, Mr Syakalima said that the Government attached great importance to strategic planning as it provided an institution with a strategic direction for its operations.
"An institution can only develop with a clear strategy because a strategic plan explains where an institution is coming from, where it is, and where it is going," he said.
The Minister said it was gratifying to see a number of strategic objectives that the University intended to achieve in the next five years which, among others, include strengthening financial capacity, nurturing a competitive research culture as well as to develop collaborative linkages with industry in order to enhance the quality of learning programmes.
And speaking at the same event, UNZA Council Caretaker Committee Chairperson, Mr Geoffrey Samukonga, said that it was important for the University Management to create a conducive environment for the implementation of the plan by putting in place measures and systems that would facilitate the timely, efficient and effective implementation of the Strategic Plan 2023 - 2027.
Meanwhile, UNZA Vice Chancellor, Prof Anne Sikwibele, revealed that the implementation of the Strategic Plan 2023 – 2027 would require about K2.16 billion, a budget that would be generated from both internal and external resources.
She said although the Strategic Plan 2023 – 2027 was overly ambitious UNZA Management was going to apply itself to the achievement of the stated objectives within the stipulated period of five years.
"In order to achieve this strategic plan we will need support from well-wishers and cooperating partners. Therefore, we will be knocking at your doors for support. Please support us however you can," Prof Sikwibele said.
The UNZA Vice-Chancellor added that the vision of the University for the next five years is; "To be a renowned University with a global appeal that is driven by the pursuit of knowledge, research, innovation, and responsiveness to societal needs", while the mission is; "To provide quality and relevant higher education, research and innovation that shape the future of society".
On Friday, 20th January 2023, UNZA launched it's Strategic Plan 2023 – 2027 which will be guided by the theme; "Repositioning the University into a world-class organisation driven by excellence in teaching, research, community service, innovation and industrialisation with a sound financial position". The Plan also indicates the core values that will influence UNZA's organisational culture as; "Excellence, Innovation, Integrity, Academic freedom, Equity, Green-environment, and Customer-centric".