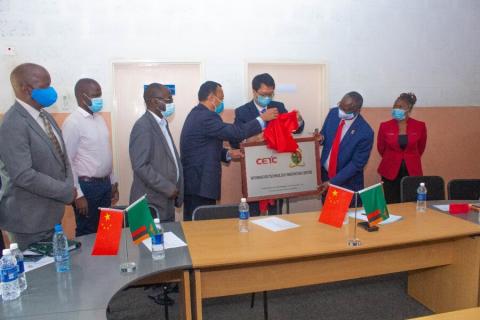 The University of Zambia (UNZA) Vice-Chancellor, Prof Luke Mumba, has thanked China Electronics Technology Taiji Group Company Limited (CETC) for the generous donation of 10 computers and he adds that the computers will help the Department of Computer Science in actualising the motto on which the University of Zambia was founded "Service and
Excellence".

Prof Mumba said the Government of the Republic of Zambia had a deliberate agenda to embrace digital transformation and an economy that thrived on information technology. He said to support this effort, the education sector needed to channel out more graduates to drive this digital transformation.

The Vice-Chancellor further said the signing of the Memorandum of Understanding (MoU) in November 2019 on funding and development of the Information Technology Innovation Centre in Zambia between CETC and UNZA reaffirmed the commitment of the working partnership between the two countries to support the digital transformation agenda in Zambia.
As an institution, we are grateful for your support and are proud to be associated with you. I hope that we shall continue counting on your support in future as we engage in many other activities," Prof Mumba said.

The UNZA Chief Executive Officer said this during the handover ceremony of the 10 computers to the Department of Computer Science in the School of Natural Sciences on Tuesday, 2nd November 2021 at the Great East Road campus.

The 10 computers were handed over to the University of Zambia by the Marketing Director at the Zambia Office of CETC Taiji, Mr Wang Yao.

The donation was facilitated by the Confucius Institute at UNZA who linked up the School of Natural Sciences and the China Electronics Taiji Group Limited Company. This is done under the Confucius Institute programme of linking Chinese institutions and enterprises with the University of Zambia and the Zambian society.