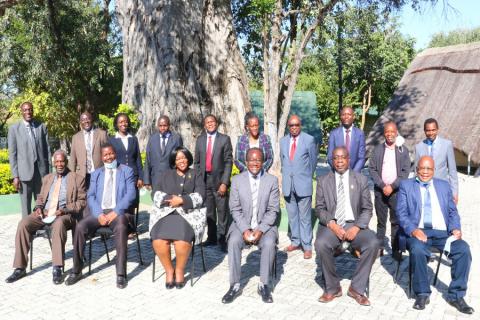 The University of Zambia (UNZA) Deputy Vice-Chancellor, Dr Tamala Kambikambi, has called for enhanced collaboration between UNZA and Zimbabwe Open University (ZOU) in providing quality distance education in order to produce the much needed human capital required to stimulate socio-economic development.
Speaking during the Review Workshop on the UNZA/ZOU Partnership held in Kariba Town, Zimbabwe, Dr Kambikambi said that there were positive indications of better things to come as evidenced from the progress the collaborative partnership has produced. "Despite us failing to meet last year to review some of the achievements and challenges due to COVID 19, we should also indicate that we have learnt a lot during this period especially in areas of administering lessons through e-learning. So we can safely say that we have managed to achieve a lot because of COVID 19," she said.
Dr Kambikambi said the UNZA/ZOU partnership, despite facing challenges, has also recorded great achievements going by the numbers of students who have graduated since the inception of the project. "I am excited to mention that, so far, we have graduated the following, Master of Science in Counselling - 42, Master of Science in Peace, Leadership and Conflict Resolution - 73, Master of Education in Education Management - 74, Master of Business Administration - 54, a total of 243 graduates at Masters level," she said. "With the graduation of the seven (7) Doctors of Philosophy students, our cumulative total of all UNZA/ZOU graduates stands at 867. These candidates go through the same rigour of assessments as their face to face counterparts and managed to publish quality papers in some high impact peer-review journals. This is no mean achievement as UNZA Management we are very proud of the fruits of this great collaborations," she said.
Dr Kambikambi was hopeful that this initiative would help to produce a much needed human capital as well as stimulate social-economic development not only in Zambia and Zimbabwe but also in the SADC region and beyond via the distance learning mode. Dr Kambikambi said UNZA was currently repositioning itself in the knowledge industry as reflected in the vision statement. "Our vision as UNZA is to become an eminent university driven by the pursuit of knowledge, innovation, and social responsiveness," she said. Dr Kambikambi said distance education was at the centre of UNZA's remodelling agenda through the Institute of Distance Education (IDE).
She said UNZA plans to expand enrolments to greater student numbers through the introduction of new market-driven courses and expanding the existing programmes. "This collaboration is one such innovation we believe can aid us to realise this vision and the introduction of technologies such as the Astria platform has further enhanced efficiency and costeffectiveness in running our programme," she said.
Meanwhile, Zimbabwe Open University Vice-Chancellor, Prof Paul Henry Gundani urged UNZA/ZOU members to actively participate in the deliberations and come up with the best solutions to the growth of the partnership.
And Committee Chairperson of the UNZA/ZOU Project from UNZA, Dr Peter Manchishi, commended the two universities for the input in the success of the project. "At the beginning when we launched this project we only had four programmes and they all came from ZOU but as I am speaking to you right now more programmes have been added to the project and all of these have come from faculties within UNZA. This is evidence enough to show that the project is doing very well," he said. Dr Manchishi said UNZA/ZOU project was one of the active partnerships at UNZA and that the results obtained so far was an indication of better things to come.